The information on this site is for informational purposes only and does not constitute an offer. The weight and other characteristics of the components of the balloon are indicative.
Contracts and other bilateral documents have legal force. The exact value of the weight and other characteristics of the components of the balloon and the balloon as a whole is indicated in the logbook, passports and tags, as well as in the flight manual.
A hot air balloon is the easiest of aircraft to control in flight. Learning to fly a hot air balloon includes a 16-hour practical training with an instructor and a course of theoretical training for about 2 or 3 weeks.
Hot air balloons by SPE «RUSBAL» have a Type Certificate СТ257-АТ104, issued by Interstate Aviation Committee.
Hot air balloons by SPE «RUSBAL» receive a lifetime airworthiness certificate extendable once in 2 years.
A hot air balloon by SPE «RUSBAL» is a set of components to be selected by a customer.
Only hot air balloons by SPE «RUSBAL» may have several envelopes and baskets included into a complete set and registered as a single aircraft in the aeronautical register.
When carrying out the procedures as per the operational documentation the owner is allowed to add other components to the air balloon complete set, including components by other manufacturers.
SPE «RUSBAL» provides air balloon maintenance or advisory services to the air balloon owners and operators.
Air balloon configuration
Operational documentation. Flight Manual, Maintenance Manual, Log book, certificates for the main components and a registry with a list of all maintenance operations, providing a complete management of maintenance performed.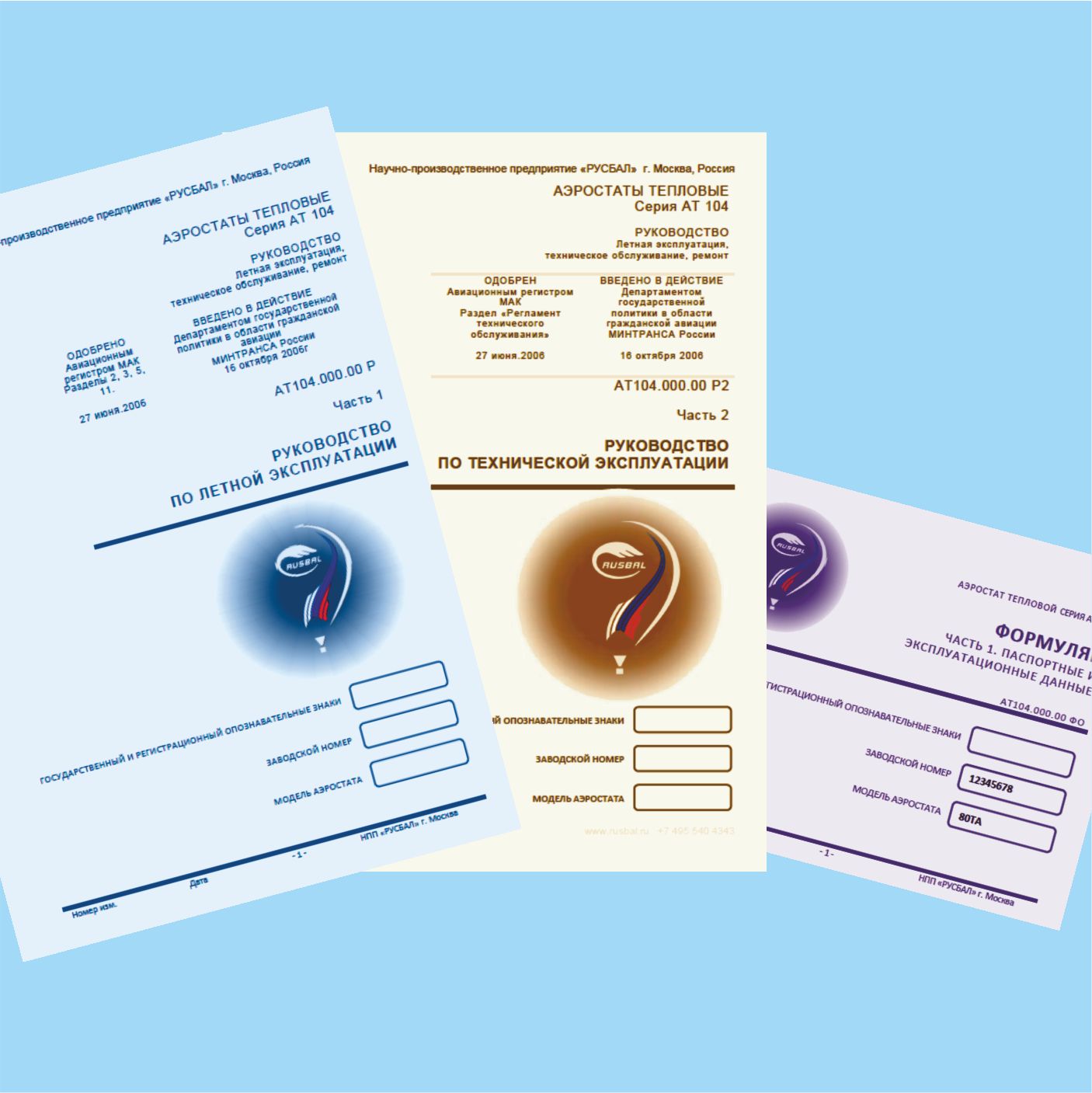 Other options, additional parts and accessories

transparent panels in the deflation valve of the envelope;

a door in the basket for embarking passengers;

padded panels installed inside the basket;

release mechanisms(made of metal and fabric) intended for release of the air balloon before flight;

pilot restraint harness to retain the pilot inside the basket while landing of the air balloon;

a hose to connect two gas cylinders;

a maintenance hose for filling-in and transferring gas;

various adapters for gas equipment;

pilot's bag;

lines for tethered flights

other parts.